Tritium exit signs are very dangerous products that are out in the market and still being used today. The problem with tritium exit signs is that they use a nuclear gas, called either tritium or radium, which will glow in the dark similar to photoluminescence.
Benefits of tritium exit signs:
Do not require an external source of light to glow

Can be used in settings where there the external light source is very weak or non-existent such as:
Movie theaters

Large warehouse settings
Do not require any type of electricity to run to them
However, the problems associated with tritium exit signs far outweigh the benefits
Disadvantages of tritium exit signs: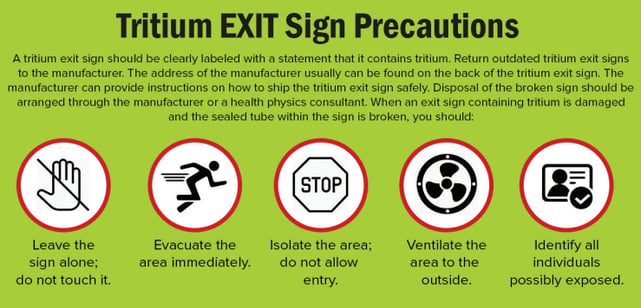 Not only are they more expensive than normal electric exit signs, but they are also even more expensive to dispose of

People will be hesitant to enter a store if it is known the building is using nuclear exit signs, hurting business

If just one of those signs were to crack or chip:
Immediately becomes hazardous nuclear waste cleanup material

Can cost up to $100,000 to clean up the nuclear material

There is a protocol requiring about 30 days worth of air quality control

The cleanup process usually requires all exposed inventory to be destroyed



To show how much tritium exit signs can affect a company's PR value, do a quick google search of "tritium exit signs and retail environments". There are countless stories about multiple big-box company's having significant problems because of these signs.
How to get rid of a tritium exit sign – cheapest option:
Locate a registered Nuclear Regulatory Commission exit sign recycling company

Register the exit sign with the Nuclear Regulatory Commission and receive a return authorization

If the exit sign is expired:
The sign can no longer be used but must be maintained on the property

The facility owner is responsible for maintaining the exit sign and close control
Once the return authorization is received:
You are responsible for packaging it as well as making sure it is properly protected

Locating a shipper that will take nuclear material and shipping it to the recycling company that is registered with the Nuclear Regulatory Commission
Once the recycling company recycles the exit sign, they will send a certificate showing proof that the sign has been recycled properly

Once you receive the certificate, you are responsible for registering that letter, usually with your state or federal officials to show that that nuclear sign that you had registered with the Nuclear Regulatory Commission has been properly disposed of and properly recycled

This process is around $200 and requires the labor listed above
LumAware Safety brings an option to the table to save all the hassle and stress:
Take the tritium exit sign off the wall

Place the sign in a box – the box is provided by LumAware and is made with a special type of packing material to handle nuclear material

LumAware handles the recycling process and paperwork

In the end, you are issued a certificate showing the sign has been recycled and taken care of

This option takes most of the risk-off of yourself
We also offer a total turnkey solution:
We will bring in our own team to take down the tritium exit sign and perform the entire service listed above

The tritium exit sign that has been recycled will then be replaced with a LumAware photoluminescent exit sign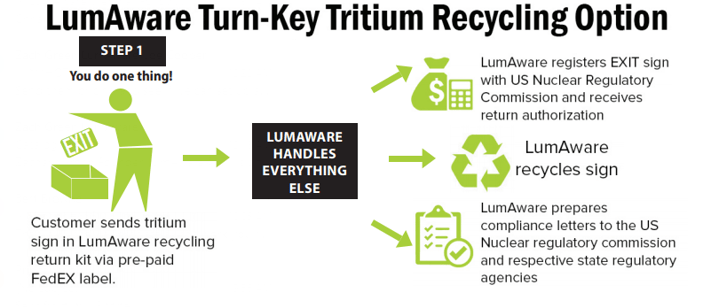 The total turnkey solution by LumAware takes away all the liabilities of performing this process yourself and replaces with our exit sign that is guaranteed for 25 years and has a life expectancy.
LumAware code approved UL exit signs are a great replacement option to dangerous tritium signs because:
-🔋 No batteries
-💡 No light bulbs
-♻️ Are sustainable
-🔌 No electricity
-👨‍🔧 No monthly testing or maintenance