There are many benefits of using LumAware energy-free exit signs f
or new building construction. First of all there is the cost of the traditional electric exit signs. Those cost can range from $30-40 for entry-level plastic ones all the way up to $700+ for the nicer edge-lit Lucite exit signs.
However, this is where the cost starts, not stops. Electrical exit signs require substantial installation costs such as:
Running Conduit.

Running Wires.

Paying for Electrical Labor.

Junction Boxes.
The biggest cost is making sure the exit sign is connected to an emergency circuit. This cost can range anywhere from a couple of hundred dollars to a couple of thousand dollars, depending on how far away the emergency circuit is from the exit sign being installed. We've heard of some locations spending in excess of $3,000.00 because of the size of their facility and the distance between an exit sign and an emergency circuit.
A good rule of thumb

EVERY 25 FEET AN EXIT SIGN IS AWAY FROM THE EMERGENCY CIRCUIT = APPROXIMATELY $125 OF INSTALLATION LABOR AND MATERIALS.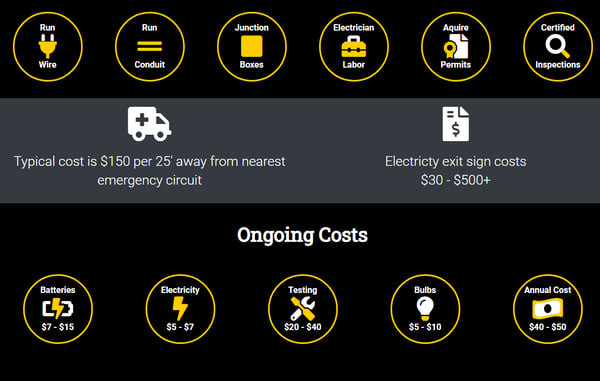 LumAware provides a better alternative to costly electric exit signs:

🔋No Batteries to test and replace
💡No light bulbs to test and replace
🔌No electricity required
And because there is no electricity required:
No conduit to run
No wiring to run
No electrical labor costs
No worrying about an exit sign reaching the emergency circuit
Because of all the above, there are very significant value engineering savings. If you have already factored for electrical exit signs in a building being constructed, you could be spending hundreds of thousands of dollars for that electrical installation expense.
THE V.E. (VALUE ENGINEERING) SAVINGS CAN BE SIGNIFICANT
The savings don't stop once the new construction finishes. They continue once the building is up and running because there is never a need to have batteries, light bulbs, and/or electricity.
Installation of the signs are simple, you can:
Use double-sided sticky tape on the back of the sign and stick it directly to the wall.

A liquid adhesive may be used as well to stick directly to the wall.

Screws/fasteners can be used to mechanically affix them to the wall.

We also offer a series of ceiling and flag mounts that can be suspended from the ceiling.
The only cost to install LumAware exit signs is simply fixing it directly on a wall or mounting it from the ceiling. This results in significant savings on new construction. For the life of the signs a typical $50 annual savings can be expected because there is never a need for:
-🔋 Batteries
-💡 Light Bulbs
-🔌 Electricity
-🛠️ Monthly Testing or Maintenance
And
-♻️ Are Sustainable and contribute to zero waste to landfill initiatives